There are fewer things that can send a stock soaring like a buyout. Right now – I see a wave of buyouts ready to pop off in the cannabis sector – and I want to show you how you can profit.
When one company buys another company – shares of the company being bought usually surge higher.
On January 18, Celgene Corp. (CELG) announced it would buy Juno Therapeutics (JUNO), a promising young biotech for $85 per share – a 91% premium to its share price at the time of the announcement.
That sent shares of JUNO soaring 91% in just seven days – giving JUNO shareholders a big gain in a very short amount of time.

Today – I see a big wave of buyouts coming down the pike in the cannabis sector and I believe it is creating another awesome opportunity for big profits.
Ernst & Young, a global leading consulting and research firm, recently published a report that predicted major consolidation in the Canadian cannabis sector.
After interviewing almost a dozen Canadian licensed producers – E&Y predicts a wave of consolidation in the Canadian cannabis leading up to legalization this July.
"Many believe that consolidation is inevitable, leaving a few large players post-legalization. Inorganic growth is expected to persist, leaving a few large players."
It looks like E&Y is spot on, because this potential wave of consolidation is already happening.
For example, on November 24, Aurora Cannabis (ACBFF), one of Canada's largest cannabis companies, announced a bid to buy Cannimed (CMED), another Canadian cannabis company, for $24, a 59% premium to its share price at the time.
Looking forward – just as E&Y predicts – I am also expecting to see more buyout offers as we move closer to July 1. We're likely to see more until the Canadian cannabis industry is dominated by a small group of large companies, which is exactly how many industries are structured.
One of the best strategies to profit from this trend of consolidation is to own mid-sized Canadian cannabis companies with market caps between $250 million and $1 billion.
These companies are ideal takeover targets for two reasons.
1. With market values of less than $1 billion, a large company like Canopy with a market cap of $7 billion can easily afford.
2. Despite smaller market caps, these companies can still add substantial production capacity to their larger counterparts.
With these key factors in mind, here is a list of 7 Canadian cannabis companies with market values of less than $1 billion that will make excellent buyout targets in 2018.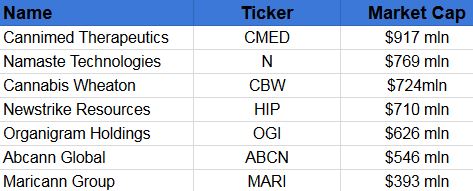 From this list, I have chosen to highlight Maricann Group (MARI) because of its ambitious plans in high-growth international markets.
Maricann is a Canadian licensed cannabis company that is making a big move into Germany.
Maricann purchased a food production facility from Cargill in early 2017 located in Dresden, Germany for $3.8 million. Maricann is now in the process of building a 500,000 square foot cannabis greenhouse at this location.
There is still a lot of risk in this project. Even the best-laid plans need to be well executed. But if Maricann can pull off building this greenhouse it will be the largest in all of Europe and serve as a distribution hub to the entire European Union.
On the chart, Maricann was flat for most of 2017 before surging into a new all-time high in the fourth quarter.

Looking forward, if a larger cannabis company such as Canopy or Aphria wanted to increase domestic and international production, Maricann looks like an ideal target. If it happened, I would expect Maricann to be bought at more than a 40% premium to its current share price.
Risks to Consider
Maricann still needs to execute its plan to build a massive cannabis greenhouse.
Action to Take
I am expecting buyout activity to accelerate in the next few months. This group of young cannabis companies look like ideal candidates.
Michael Vodicka owns shares of Aurora Cannabis and Organigram.
---
About the Author
Michael Vodicka is an equity analyst with more than 20 years of experience trading and investing. His research has been featured in some of the industry's most respected publications. He has been investing and leading investors in the cannabis sector since 2013.