Blockbuster drugs are the holy grail of the pharmaceutical and biotech industry.
When annual sales of a new drug break the $1 billion mark, investors are usually rewarded with big gains.
This is what began happening late 2012 with Gilead Science (Nasdaq: GILD).
In 2013 the FDA approved Gilead's hepatitis C drug Sovaldi.
Then, in 2014, Gilead scored an FDA approval for another Hep C drug, Harvoni.
Both drugs went on to quickly hit blockbuster status – sending shares of Gilead soaring – jumping more than 200% in the next two years. Take a look below.

Today, the young cannabis industry is in hot pursuit of its first ever cannabis blockbuster – and I expect the winner of this race to deliver huge gains to shareholders.
Right now, my money is on GW Pharmaceutical (Nasdaq: GWPH). I wrote about GW back in January if you would like to review.
However, an up and coming cannabis biotech is hot on its tail.
Corbus Pharmaceuticals
(NASDAQ:CRBP) is a phase three clinical stage pharmaceutical company that is working on developing drugs to treat rare, chronic, inflammatory and fibrotic diseases.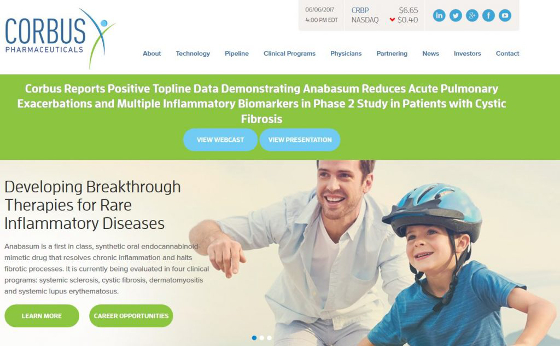 Image courtesy of Corbus Pharmaceuticals
As it stands, Corbus does not have any commercial drugs on the market. Which means the company does not generate any substantial revenue.
Where things get interesting with Corbus is its promising pipeline.
Corbus's Lead Drug Candidate Anabasum a Shot at Becoming the First Ever $1 Billion Cannabis Blockbuster
Corbus's most promising pipeline candidate is Anabasum. The drug is being tested for four different conditions – you can see that in the chart below.

Image courtesy of Corbus Pharmaceuticals
But Anabasum's most promising application is for the treatment of cystic fibrosis.
As it stands, most CF treatments target one specific symptom. That makes it unrealistic for most CF patients to take many different drugs at once to treat a wider range of symptoms.
CF sufferers need a drug that can have a broader impact on suppressing general inflammation.
Corbus is aiming to fill this gap. If it can deliver, Anabasum could be a drug that almost all CF patients could take.
That's where the promise of this drug lies.
It could potentially be a drug that the entire CF population.
Anabasum has shown positive results in two-phase two studies.
Looking forward, Corbus plans to kick off a larger and longer Phase 2b study of Anabasum for the treatment of cystic fibrosis in the fourth quarter of 2017.
On The Chart
Corbus has traded in line with the broader cannabis sector for most of the last year. Shares ripped higher in the fall of 2016 and early 2017 before weakening in the last two months. Take a look below.

Risks To Consider
While Anabasum has shown positive phase 2 results, it did not have an impact on overall lung activity. Corbus also has a market cap of $325 million. On one hand that's good because it means investors have high expectations. But considering there is no revenue, that market cap is all optimism at this point.
Actions To Take
Corbus is a high risk, reward cannabis biotech. If it can deliver strong clinical results for Anabasum, the drug could have serious revenue potential in the long run. I would expect any good news on Anabasum to send shares soaring.
Michael Vodicka owns shares of GW Pharma at time of writing.