It's been a tale of two markets for cannabis stocks.
On one hand, U.S. cannabis stocks have struggled since eight U.S. states approved new marijuana programs last Tuesday.
For example, industry leader Terra Tech (TRTC) is down 18% in the last five days. Kush Bottles (KSHB) is down 35%.
On the other, Canadian cannabis stocks have been killing it.
Canopy Growth Corp (CGC), the largest medical marijuana company in Canada is up 74% in the last week. Aphria (APH) is up 51%. Organigram (OGI) is up 46%.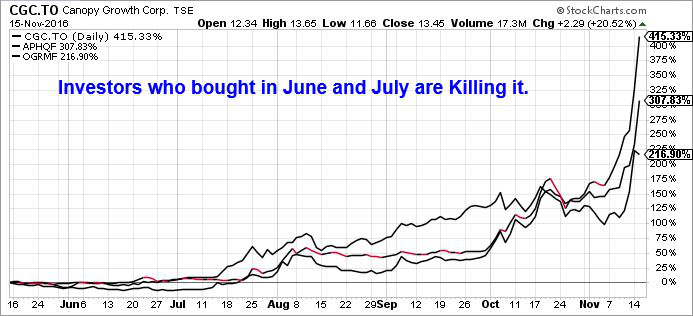 Chart courtesy of StockCharts.com
This has a lot of cannabis investors scratching their heads.
After all, didn't the U.S. market just see a big wave of legalization?
Here's what I think.
Canadian cannabis stocks look like a much safer investment than their U.S. counterparts.
In the U.S, marijuana use in any form, medical or recreational, is still illegal at the federal level.
That creates significant legal risk for U.S. cannabis companies and their shareholders.
Although I consider it unlikely, these U.S. based cannabis companies can be shut down at any time by the Feds or local police.
Because of this legal status, U.S. based cannabis companies don't qualify for the same tax write-offs as other businesses and they are not allowed to open business bank accounts at the four major U.S. banks.
Canada, on the other hand, is a totally different scene for cannabis companies.
Medical marijuana is legal on the federal level.
These cannabis companies face none of the legal risk and operational limitations of U.S. cannabis stocks.
They are granted permits from the federal government to legally operate a business. Canada formed the MMPR – Marijuana for Medical Purposes (MMPR) program – a federal agency that regulates the legal cannabis industry.
For fund managers, who control trillions of dollars of capital and have the real power to move markets, investing in U.S. based, penny stocks, where marijuana is still illegal carries a lot of uncertainty.
Canada is a much friendlier legal, regulatory and operational environment for cannabis companies.
I think that important legal distinction between the two countries is the reason Canadian cannabis stocks are beating U.S. stocks.
I hope the United States can look at Canada as a model and create a friendlier environment for cannabis companies. That would create new jobs, increase tax revenue and help reduce crime.
Any federal legalization would unleash a beast.
The US cannabis market is already more than 10 times the size of Canada.
I know this will come as a surprise, but California is the largest cannabis market in the world.
26 states have enacted cannabis programs.
Looking forward, the U.S. cannabis market is still in the very early stages of growth.
That's why this is a good time to be investing in U.S cannabis stocks – before big regulatory breakthroughs, while the sector trades well below its 52-week high and out of sync with the Canadian market.
If you are entering new investments, I recommend starting small, staying diversified and looking to buy on dips and pullbacks.
To that point, here is a list of five of my favorite U.S. cannabis stocks that also happen to be some of the largest companies in the young industry. Some of these stocks are trading well below recent highs.

From this list, I am going to profile Kush bottles because it just reported awesome annual results while also trading more than 30% below the 52-week high.
Kush Bottles (KSHB) is another well-known company in the cannabis sector as an early industry leader.
Kush is a "pick and shovel" play on the cannabis market. It doesn't grow or sell cannabis.
It is a wholesale distributor of packaging supplies and materials to the U.S. cannabis industry.
The company is cashing in on strict regulations in the cannabis industry.
Cannabis companies can't just waltz down the street and ship 10 pounds of dried bud at the local UPS.
Cannabis companies are required to meet strict packaging regulations state by state.
That is good for Kush's business. It helps its clients stay compliant with customized packaging solutions.
Beyond regulations, the cannabis industry has its own unique packaging needs.
Kush caters to those needs.
For example, it sells child resistant pop tops, pop top bottles, barrier bags, pre-rolled tubes and tamper-evident bands. Take a look at a screenshot of Kush's products.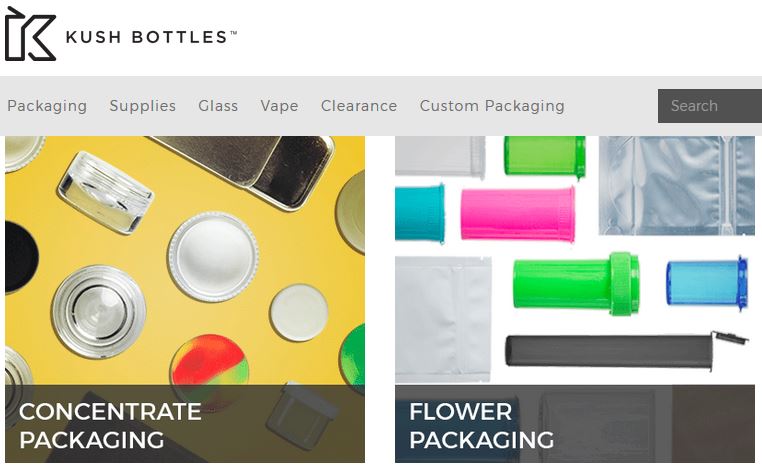 Providing a mission-critical product to a booming industry has been good for business.
Kush reported awesome annual results on November 3.
Revenue was up 105% from last year to $8.2 million.
Operating income jumped 124% from last year to $84,500.
Despite the strong performance, Kush is down more than 30% in the last week.
I view that short-term weakness as a healthy correction.
Keep in mind, Kush was up as much as 270% in the last three months and it still up 142% during that period.
Kush bottles is another controversial marijuana stock. That is going to be a common theme in the sector. Most of these stocks are controversial. People either love them or hate them.
Kind of reminds me of licorice. As Jerry Garcia said, not everyone likes it. But the ones who do, like it a lot.
I'm one of those people. I like cannabis stocks a lot. And Kush Bottles is one of my favorite cannabis companies.
POTENTIAL THREATS
Kush's strong brand recognition gives it an edge over the competition. And Kush is pretty much the only game in town. But it operates in an industry with low barriers to entrance.
ACTION TO TAKE
Kush is an early leader in the cannabis packaging materials industry. It just reported awesome annual results. Despite the solid results, shares are trading more than 30% below the recent high. Look to buy more shares below $4.25.
Disclosure: Michael Vodicka owns shares of Terra Tech (TRTC), Kush Bottles (KSHB), Cara Therapeutics (CARA) and INSY Therapeutics (INSY)