Canadian legislators just delivered another big win for cannabis investors.
On November 28, members of parliament (MP) overwhelmingly voted in favor of C-45, the bill is set to legalize recreational cannabis in the summer of 2018. The bill will now head to the Senate where it is expected to run into some resistance but ultimately pass.
The latest legislative victory created a buzz on the Street and sent the Canadian cannabis sector soaring into a new all-time high.

However, buried beneath the headlines is an easily missed detail that is creating a great investment opportunity.
Canada has revered course on edibles. Recent updates to C-45 will now make it legal for cannabis companies to make and sell edibles. That includes both food and beverages and is set to kick in 12 months after recreational cannabis is legalized.
This is great news for the entire industry. But I see one little-known Canadian cannabis company that is ready to cash in. This company:
Owns an impressive portfolio of cannabis beverages.
Revenue is up more than 5,800% in the last 12 months.
Shares just ripped into a new all-time high, up 535% in four weeks.
Isodiol International (CSE: ISOL.CX OTC: ISOLF) is a young and promising Canadian company that specializes in cannabis edibles and CBD consumer products.
Shares have their primary listing in Canada on the Canadian Securities Exchange under the ticker symbol ISOL.CX but are also traded on US, OTC markets under the ticker symbol ISOLF. I see plenty of trading volume in both listings.
Canada's decision to legalize edibles (remember this includes beverages) is a big win for Isodiol.
Isodiol's wholly owned subsidiary Pot-O-Coffee owns one of the coolest cannabis beverage products I have ever seen.
Pot-O-Coffee sells a line of THC and CBD infused coffee and tea cups, similar to the Keurig concept. Take a look below.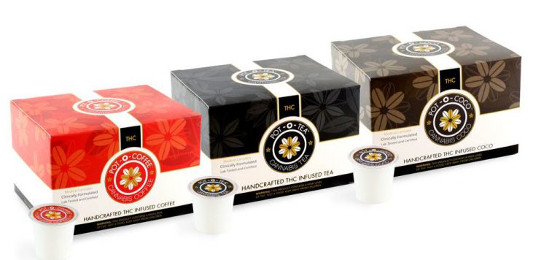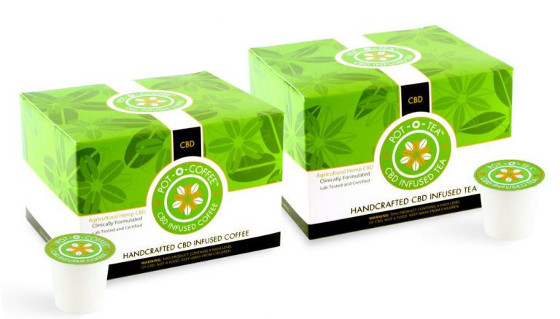 Isodiol acquired Pot-O-Coffee at the end of May and these products are still in the early stages of being commercialized.
However, I see major potential here with Isodiol's ability to ramp production and leverage its distribution network and contacts in both the US and Canada.
Even if Pot-O-Coffee flames out, Isodiol is no one-trick pony. The company is also heavily involved in the high-growth CBD market.
As a refresher, CBD is the second most prevalent compound found in cannabis plants. It doesn't have the psychoactive effects of THC – meaning it won't get anyone stoned. But there is growing research and testimonials that it can provide major health benefits such as reducing aches and pains, nausea, seizures, and anxiety.
Because of these health benefits CBDs have emerged as one of the fastest-growing cannabis sub-industries.
Hemp Business Journal, a CBD media and data company, estimates the CBD market will grow to $2.1 billion in consumer sales by 2020. That would be a 700% increase from 2016.
Once again, Isodiol is in position to capitalize.
Isodiol owns an impressive portfolio of CBD consumer products such as pills, skin creams, and oils.
For example, Isolate is a hemp oil that can be added to food for general health benefits. Take a look below.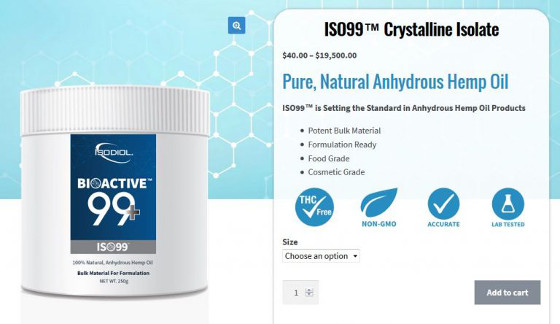 Isoderm is a cream that is applied directly to the skin to fight headaches, joint pain, and nervous system disorders. Take a look.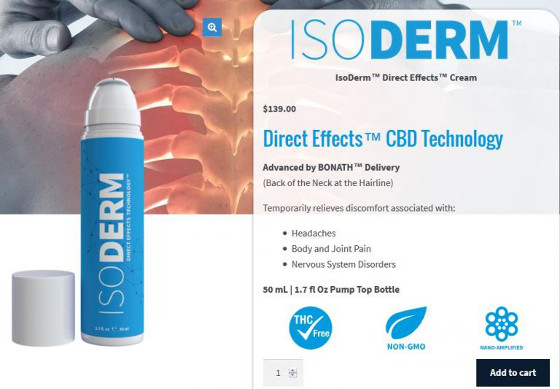 This line of products has been commercialized as you can see and generating revenue.
To say the early results are impressive would be a huge understatement.
Isodiol Revenue is up more than 5,800% in the Last 12 Months
Isodiol recently reported quarterly results for the period ending June 30, 2017.
Revenue exploded higher, up more than 5,800% after climbing to $2.7 million Canadian dollars from just $47,000 in the same period last year.
You can review the full quarterly report right here.
That explosive revenue growth bodes well for future sales growth. It's also the reason shares recently surged higher on the chart.
Isodiol Shares are up 535% in the Last Four Weeks
Isodiol has been on fire on the chart. After languishing for most of the year, ISOLF began surging in early November with the broader cannabis sector, gaining more than 535% in the last four weeks. Take a look below.

The Big Picture
Isodiol looks like a super interesting young cannabis company. Recent legislative news out of Canada should be good for future sales.
I view Isodiol as a peripheral holding in a diversified cannabis portfolio.
After this big run higher, I would be looking to buy on dips and pullbacks.