The cannabis sector is loaded with promising young biotechs. One one hand that's great. Investors have a lot of options to choose from. But on the other hand, it presents a new challenge. The cannabis biotech industry is super competitive, and only the best companies will successfully navigate the FDA gauntlet and release profitable drugs.
Today – I want to share one of the most promising young cannabis biotechs.
This company's lead drug candidate is making major progress through clinical trials.
It has recently released a string of positive clinical results.
And shares are up 611% in the last 22 months. If we see some more good news in 2018, there's no reason this stock can't deliver another 611% return in the next 22 months.
Let's take a closer look.
Corbus Pharmaceuticals Holdings (CRBP) is an early stage cannabis biotech headquartered in Massachusetts that was founded in 2009. Shares are traded on the US NASDAQ exchange.
Corbus is one of the most promising US cannabis biotechs.
The company hasn't released any cannabis drugs and it doesn't have any revenue.
What it does have is one of the most promising drug candidates in the cannabis industry.
Corbus' lead drug candidate is Anabasum.
Anabasum is synthetic oral endocannabinoid-mimetic drug designed to resolve chronic inflammation and fibrotic processes.
I know that sounds pretty technical, but it's basically a fancy way of saying it's a synthetic (chemical, not herbal) cannabis drug designed to target pain receptors.
Anabasum is being tested for four indications. That is a high number for a single drug and somewhat unusual. However, it's not a bad thing – it's a good thing. Below is a list of the four indications.
Diffuse Cutaneous Systemic Sclerosis
Cystic Fibrosis
Dermatomyositis
Systemic Lupus Erythematosus
Anabasum is making major progress in clinical trials – important steps toward potential FDA (Food and Drug Administration) approval and commercialization.
Here's a chart from the Corbus website outlining how far Anabasum's four indications have progressed in clinical trials.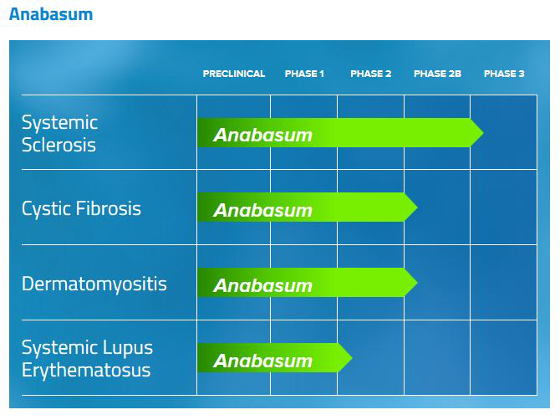 Anabasum's most promising application is for the treatment of cystic fibrosis.
As it stands, most CF treatments target one specific symptom. That makes it unrealistic for most CF patients to take many different drugs at once to treat a wider range of symptoms.
CF sufferers need a drug that can have a broader impact on suppressing general inflammation.
Corbus is aiming to fill this gap. If it can deliver, Anabasum could be a drug that almost all CF patients could take.
That's where the promise of this drug lies – it could potentially be a drug for a large portion of the CF population.
Corbus kicked off a larger and longer Phase 2b study of Anabasum for the treatment of cystic fibrosis in the fourth quarter. I'll be sure to keep everyone posted on any updates.
Anabasum Has Been Chalking Up Some Wins For Other Indications As Well
Anabasum continues to show significant progress in its clinical trials.
On October 19 shares jumped more than 25% after Corbus announced positive results from a Phase 2 clinical trial for the treatment of dermatomyositis – a rare inflammatory disease that causes muscle weakness and skin rash.
On October 31 USPTO (US Patent and Trademark Office) issued a new patent (No. 9,801,849) to Corbus covering the use of pharmaceutical compositions comprising Anabasum.
These are big wins for Corbus and Anabasum.
Most importantly, it shows that Anabasum is moving closer to potential commercialization.
It also shows that Corbus is developing IP – intellectual property. That's important because it helps Corbus retain value even if some of its drug candidates don't score FDA approvals.
This Looks Like An Awesome Time To Buy Shares
I see a bullish formation on the chart.
Corbus surged into a new all-time high with the broader cannabis market in the fall of 2016.
Since then shares have consolidated into a narrow range. Take a look below.

This is a bullish formation that is called a bull flag – a formation that frequently leads to an upside breakout and new all-time high.
That's exactly what I am expecting to happen here. I am expecting Corbus to advance to the top of the channel, break out, and surge into a new high.
Risks To Consider
Biotechs are known for extreme volatility. They will trade directly on the success or failure of clinical trials.
Action To Take
Anabasum has already made significant progress through clinical trials. This is a very promising signal that bodes well for future success. I'm looking for Corbus to advance to the top of the recent channel and break out into a new high by the end of the first quarter of 2018.