I was a derivatives trader for a billion-dollar trading firm at the Chicago Board of Trade for three years in my late twenties.
It was a crazy job. My job was to make huge bets all day long in highly volatile markets.
The key to this position was the chart.
I would hunt for specific formations on the chart, looking for stocks, bonds, commodities, or currencies ready to break out into a new high or break down into a new low.
Once I found the right setup I would slap on million-dollar trades looking to "scalp" the market for a quick profit.
This is the insanity of short-term trading and why I am now an investment advisor. You have to be nuts to gamble like that all day. Investing is a thousand times easier than trading.
However, as an investment advisor and financial writer, my background in trading is a weapon.
It helps me see things in the market that a lot of other advisors and investors miss.
Right now, my background in trading and charts tells me cannabis stocks are about to break out into a new all-time high.
The North American cannabis sector has moved into a bullish formation on the chart that frequently leads to an upside breakout.
When I was a trader, this is exactly the kind of setup that would have gotten me excited about a fat winner.
The North American Cannabis Stock Index (MJIC) is in Breakout Formation
The MJIC North American Cannabis Stock Index has moved into a pennant formation on the chart.
This is a setup that frequently leads to a strong upside breakout.
Here's how Investopedia defines a pennant.
"A pennant is a continuation pattern in technical analysis formed when there is a large movement in a stock, the flagpole, followed by a consolidation period with converging trendlines, the pennant, followed by a breakout movement in the same direction as the initial large movement, the second half of the flagpole."
Take a look at the pennant formation in the MJIC North American Cannabis Stock Index below.

Chart courtesy of MarijuanaIndex.com.
This chart formation is important for two reasons.
First, I believe the entire North American cannabis sector is about to break out and hit a new 52-week high.
As you can see, it looks like the index is being squeezed and ready to pop. I think that's exactly what's going to happen. That means it could be a good time to buy or add cannabis shares before the sector pushes another leg higher.
Second, if the entire cannabis sector advances, I am expecting a smaller group of individual cannabis stocks to do even better.
For example, companies with strong revenue growth on the income statement and a great setup on the chart. Here are three of the best.
Canopy Growth Corp (TSX.TO: WEED)
Canopy growth Corp is the largest medical cannabis company in Canada. Canopy is already making moves to dominate the global cannabis industry. It recently launched a joint venture in Brazil and purchased a German dispensary for $7 million. On the chart below, you can see Canopy is also in a pennant formation. I am looking for Canopy to break the 52-week high in the next few months.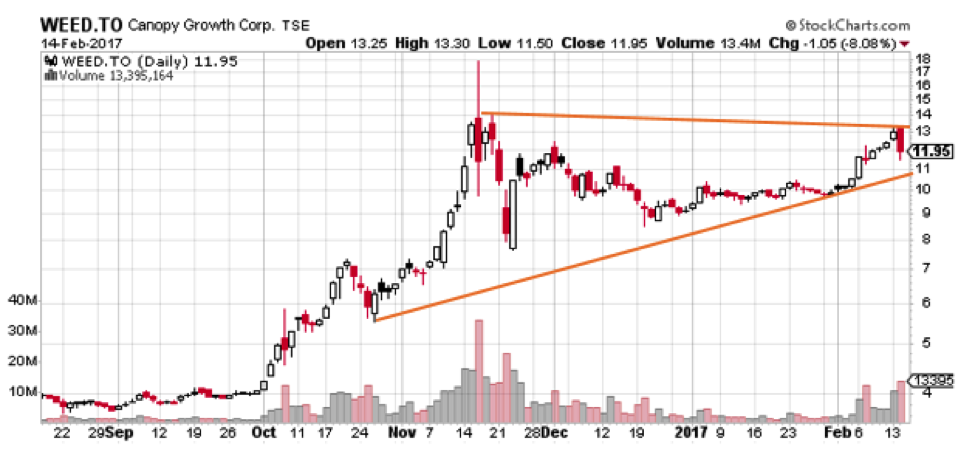 Chart courtesy of StockCharts.com.
Aurora Cannabis (TSX.V: ACBFF)
Aurora Cannabis is also one of the largest medical cannabis companies in Canada. Aurora is unique because it operates a legal monopoly. It is currently the only company with a license to produce and sell medical cannabis in Alberta, one of Canada's largest provinces with a population of more than four million. On the chart below, you can see Aurora is also showing the pennant formation.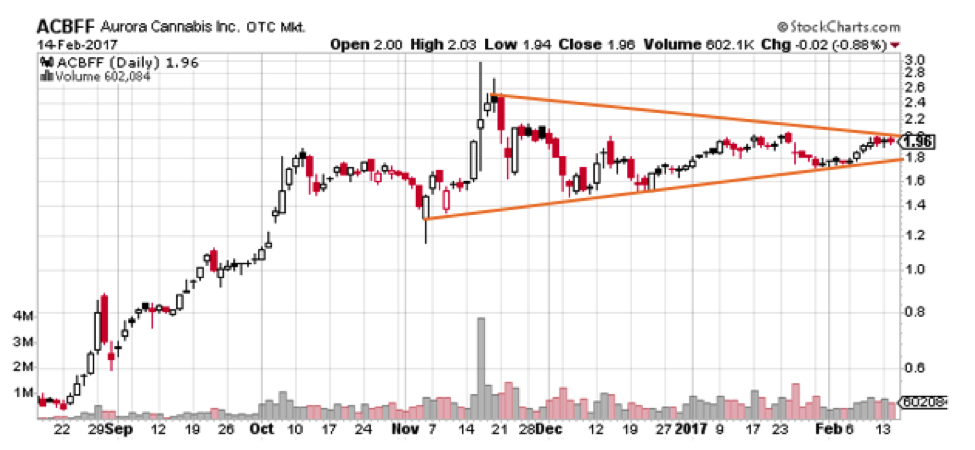 Chart courtesy of StockCharts.com.
GW Pharmaceuticals (NASDAQ: GWPH)
GW Pharmaceuticals is a U.K. based pharmaceutical company. GW is in hot pursuit of the first ever cannabis blockbuster with Epidiolex, a drug designed to treat epilepsy. Epidiolex is currently in Phase 3 FDA testing, the final stage before receiving final approval or denial from the FDA. GW is expecting a final ruling on Epidiolex by the end of the year. On the chart, GW is in breakout formation. I am expecting a new 52-week high.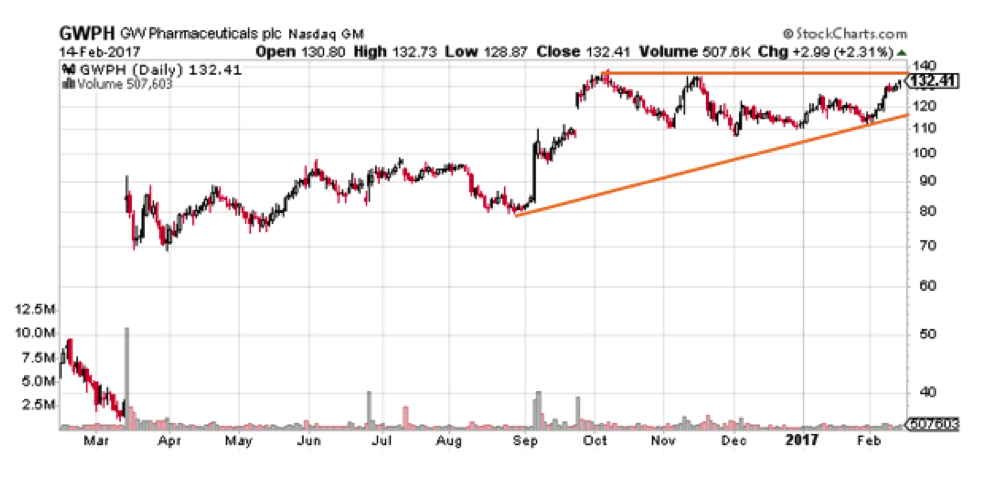 Chart courtesy of StockCharts.com.
Action to Take
The entire cannabis stock sector looks like it's about to breakout higher into a new 52-week high. If that happens, I am expecting these companies to lead the charge higher.
Disclosure: At the time of original publishing, Michael Vodicka owns shares of Canopy Growth Corp (WEED) and GW Pharmaceuticals (GWPH).
Michael Vodicka owns shares of Canopy Growth, Aurora Cannabis and GW Pharma at time of writing.