If you want to invest in a legal monopoly – I've got just the cannabis stock for you.
This early industry leader is the only Canadian cannabis stock with a license to produce and sell cannabis in Alberta – Canada's fast-growing and fourth-largest province with a population of 4.1 million.
It just reported record first-quarter results, with revenue up 151% from just last quarter.
And finally, it's in the early stages of building an 800,000 square foot, state of the art, cultivation center.
When you add it all together, this early industry leader is one of the most exciting stocks in the cannabis sector.
Aurora Cannabis (ACBFF) is the second largest medical cannabis company in Canada with a market cap of $650 million.
Aurora currently operates a 55,200 square foot cultivation facility in Mountain View County.
Although this facility is modest by growing industry standards, Aurora still crushed it last quarter.
First-quarter revenue of $3.1 million was up 151% from last quarter.
It sold 435,720 grams, up 118% from the fourth quarter.
Total registered patients hit 10,800. Although Aurora did not release patient volume numbers from last quarter, management has claimed this is the fastest pace of growth in the history of the industry.
Looking forward, I am expecting a lot more good news.
I see two major catalysts that tell me Aurora is headed for major growth.
AURORA BENEFITS FROM A LEGAL MONOPOLY IN ALBERTA
Aurora is benefitting from a competitive advantage most companies can only dream of – a legal monopoly.
Aurora is the only cannabis company with a permit to grow and sell cannabis in Alberta.
Take a look at the chart below. It lists the number of cannabis permits by province. As you can see, Alberta has one license which Aurora owns.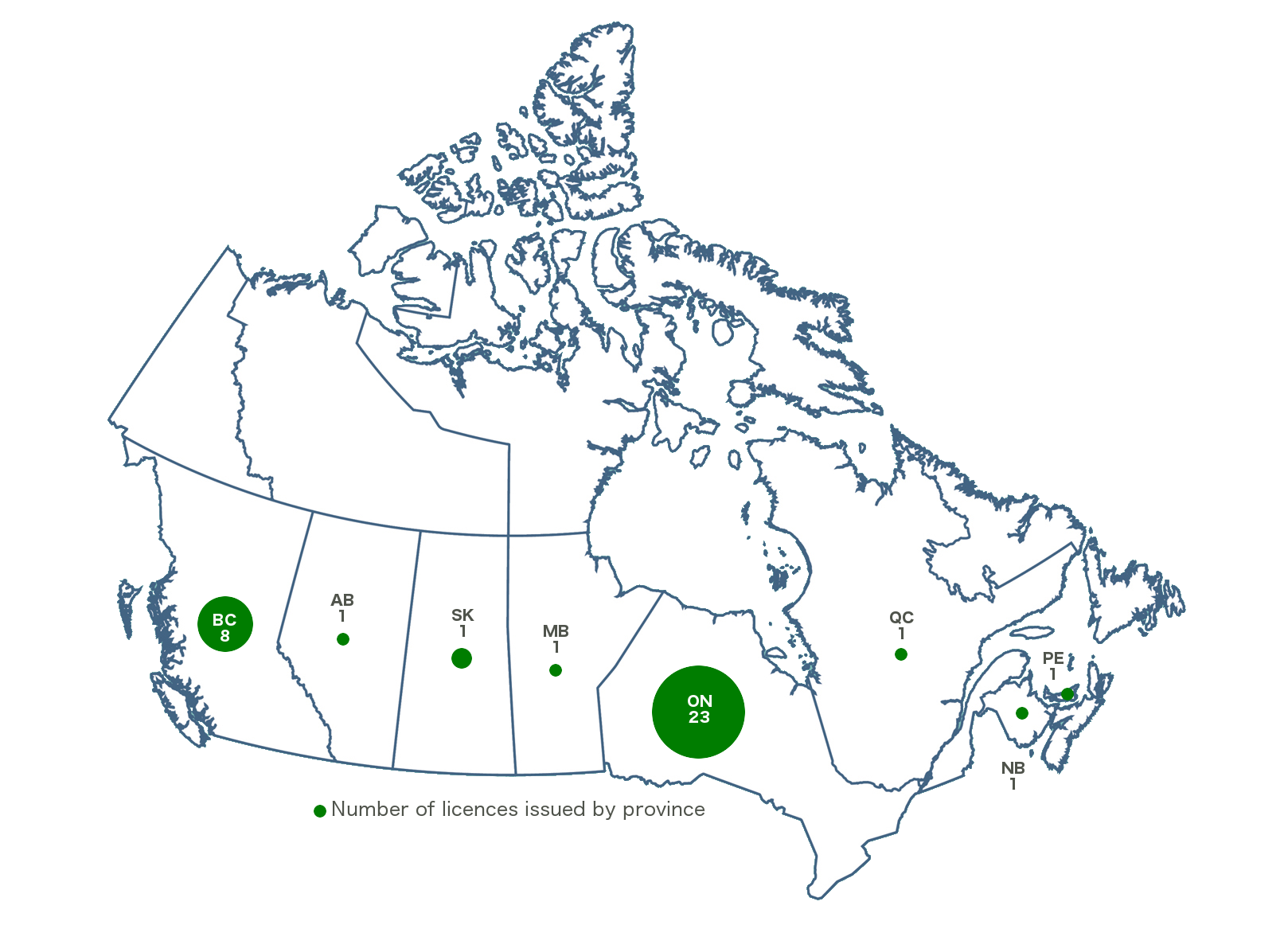 Most of the time I view monopolies as bad for companies because it limits competition. But in this case, it is providing Aurora with two important competitive advantages.
In the short run, Aurora is scooping up thousands of new customers with zero resistance from any competition.
In the long run, I do expect new cannabis companies to enter the Alberta market. However, Aurora will be so far ahead of the game by then, it will be difficult for new companies to chip away at its scale and customer loyalty.
Alberta also happens to be one of Canada's most promising provinces. It is home to Canada's most treasured and valuable natural resource – the oil sands, containing 166 billion barrels of proven oil reserves.
When the price of oil was high, Alberta was booming and the fastest-growing province in Canada.
Alberta has slowed in the last two years after the price of oil crashed. But I expect the price of oil to rise in the long run and when it does it would be very good for Alberta and Aurora.
AURORA IS BUILDING AN 800,000 SQUARE FOOT STATE OF THE ART CULTIVATION FACILITY
Aurora is making big moves to cash in on Alberta.
On November 30, Aurora announced it had begun construction of Aurora Sky, an 800,000 square foot state of the art cultivation center.
This new facility will be larger than 16 football fields and capable of producing 100,000 kilograms of dried product every year.
Here's the thing that's even crazier about Aurora Sky. It is being built at the Edmonton International Airport, where Aurora is leasing 30 acres from Edmonton Regional Airports Authority.
This location provides major competitive advantages, such as easy access to air, road, and rail transport systems and access to low-cost, reliable power.
Aurora Sky is a major power play by Aurora to capture and supply the Alberta market.
It provides a low-cost, high-quality production center that will help Aurora drive major revenue growth for years to come.
Aurora Sky is scheduled to begin production by late 2017.
AURORA IS UP 361% IN THE LAST 12 MONTHS
Aurora's potential has not gone unnoticed.
Shares had a great run in 2016 and are up 361% in the last 12 months.
However, Aurora has been taking a breaking, trading in a tight range for most of the last four months.
Shares are currently in a triangle pattern – a formation that frequently leads to an upside breakout. Take a look below.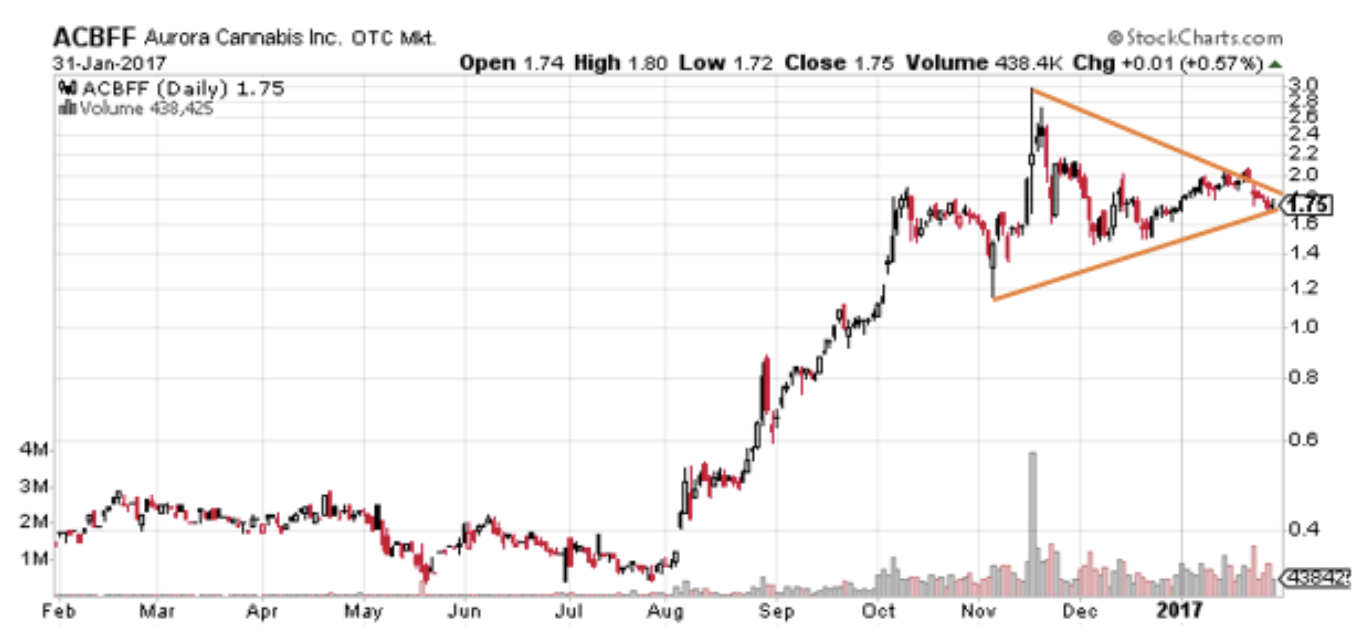 Chart courtesy of StockCharts.com.
RISKS TO CONSIDER
A lot of good news is already priced into Aurora. The company needs to ramp up production quickly to meet those expectations and keep shares moving higher.
ACTION TO TAKE
I view Aurora as a core cannabis holding in a diversified cannabis portfolio. Even though shares are up big in the last 12 months, I see a potential breakout on the chart. Buy now and look for the upside breakout in the next few months.
Disclosure: At the time of original publishing, Michael Vodicka did not own shares of ACBFF.