Cannabis stocks are off to a good start in 2017.
After gaining 4.2% in January, the MJIC North American Cannabis Stock Index is now up more than 5% on the year.
Although that's a great return for any 'normal' stock index, it might not jump off the page after cannabis stocks delivered big returns in 2016.
However, looking below the surface, you'll see plenty of cannabis stocks have been burning up the charts in 2017.
Canadian cannabis stocks have been leading the pack.
Canopy Growth Corp (TSX: WEED), Canada's largest medical cannabis company, is up 25% in 2017.
That bullish movement has been driven by a steady stream of good news.
Canopy just closed its $450 million acquisition of fellow medical cannabis company Metrum Health, creating the largest medical cannabis company in Canada.
Canopy also recently invested $7 million in a German cannabis dispensary.
The investment was well timed. Germany just voted to legalize medical cannabis. The acquisition positions Canopy to be a major supplier to the German and European cannabis markets.
Canopy is looking like a major player in the global cannabis market. This is definitely a company to keep your eye on.
Aphria (TSX.V: APH), Canada's second largest medical cannabis company, is up 8% in 2017.
Aphria just announced its shares would be up listed to the full Toronto Stock Exchange.
Right now, Aphria trades on the Toronto Venture Exchange, a "junior exchange" for smaller companies to access public capital.
The up listing is a win for Aphria and the entire cannabis industry. Not only will it help Aphria generate more attention for its stock, it shows cannabis companies are growing and gaining credibility.
Take a look below at Canopy and Aphria's outsized gains in 2017.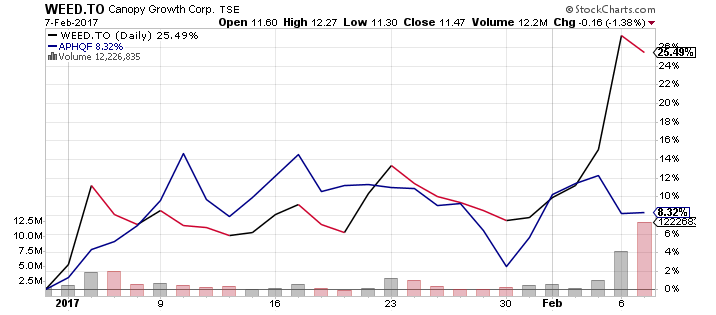 Chart courtesy of StockCharts.com.
U.S. cannabis biotechs have also been strong.
U.S. based biotech Cara Therapeutics (NASDAQ: CARA) is already up 75% on the year.
That huge move is being driven by CR845 – Cara's promising cannabinoid-based drug designed to treat acute and chronic pain and severe itching.
This drug would be an alternative to current opioid options that come with harmful side effects.
CR845 is currently in Phase 2 and 3 testing. CR845 will continue to undergo clinical trials. But as you can see from its share price, investors are optimistic this drug could be a winner.
GW Pharmaceuticals (Nasdaq: GWPH), a U.K. based cannabis biotech is up 11% in 2017. In the last year, shares are up 177%.
Those huge gains are being driven by Epidiolex, a promising drug designed to treat epilepsy.
Epidiolex is currently in Phase 3 testing – this is the final phase of a multi-year process that comes right before a final decision from the FDA.
GW is expecting the FDA to make a final ruling on Epidiolex by the end of 2017.
If approved, Epidiolex has a shot at becoming the world's first cannabis blockbuster. Analysts are predicting annual sales between $800 million and $3 billion by 2020.
I expect an approval from the FDA and I am expecting shares to hit a new all-time high on the news.
Take a look at Cara and GW's big gains in the chart below.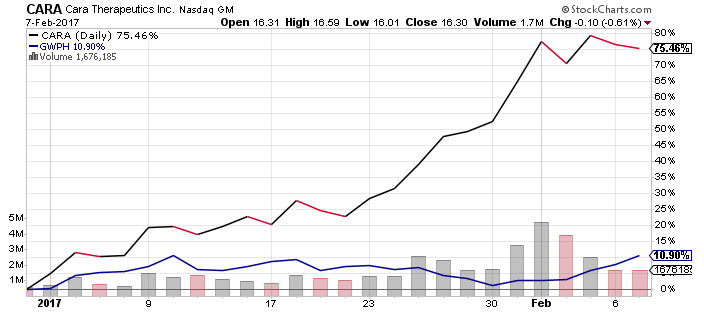 Chart courtesy of StockCharts.com.
As you can see, there is plenty to feel good about in the cannabis industry.
Looking forward I see a major catalyst directly on the horizon.
Canada Could be voting to Legalize Recreational Cannabis this Spring
Canada is already a leader in the global cannabis industry. Medical cannabis is legal on the federal level in Canada – something that hasn't happened in the U.S.
This legalization has given Canada's cannabis industry a huge leg up both domestically and internationally.
Now, Canada is ready to take the next step.
Canada Could Be Voting to Legalize Recreational This Spring
Here are two resources if you'd like to take a closer look.
Canada Gears up for Marijuana Legalization in 2017
2016 Paved the Way for Legal Weed in Canada " 2017 will be the Real Test
The magnitude of this event cannot be overstated. This is major news for the cannabis industry. A vote to legalize recreational could unleash mega profits for cannabis stocks.
A recent report from consulting firm Deloitte projected that cannabis sales could be at least as large as hard liquor sales at $5 billion annually. In the long run, annual sales could reach $10 billion, in line with annual wine sales.
The total economic impact of recreational legalization – including growing and distribution, paraphernalia, tourism and business taxes – is projected to range from $12.7 to $22.6 billion.
I will be watching Canada closely and keeping our Cannabis Stock Trades Premium members updated on the best way to profit. We'll be accepting new members very soon – keep an eye out for an email with our big announcement.
Disclosure: At the time of original publishing, Michael Vodicka owns shares of Canopy Growth Corp (WEED), Aphria Inc. (APH), Cara Therapeutics (CARA) and GW Pharmaceuticals (GWPH).