Investing in real estate has been one of the best ways to get wealthy in the United States for the last 100 years.
In Forbes' 2016 list of the 400 richest people in America, real estate ranks as the sixth most common source of wealth.
This is just one more reason I am bullish on a new cannabis stock I like to call The Cannabis Landlord.
Innovative Industrial Properties (NYSE: IIPR) is a fresh face in the cannabis stock sector.
This undercover cannabis stock caught my attention for three reasons.
First, it is the first and only cannabis stock listed on the New York Stock Exchange after going public in December of 2015.
Secondly, it is also the first cannabis REIT (Real Estate Investment Trust) " a corporate structure frequently used by real-estate investment companies to distribute profits to shareholders tax free.
And finally, IIPR is one of the very few cannabis stocks that pays a dividend.
IIPR's goal is to become one of the largest cannabis landlords in the United States.
Its business model is to purchase cannabis cultivation facilities and then lease those facilities to other cannabis companies that need primary or additional cultivation capacity.
If IIPR's first-ever deal is any indication, shareholders have good reason to be optimistic.
IIPR Just Invested $30 Million in a 127,000 Square Foot Cultivation Facility
IIPR's IPO netted $92 million in fresh capital.
The company is using this cash to purchase cannabis cultivation facilities.
On December 19, IIPR announced it had closed its first deal, acquiring a newly constructed, 127,000 square foot cultivation center located in New York for $30 million from private fellow cannabis company PharmaCann – one of just five companies approved by the state of New York to grow and sell medical cannabis in New York.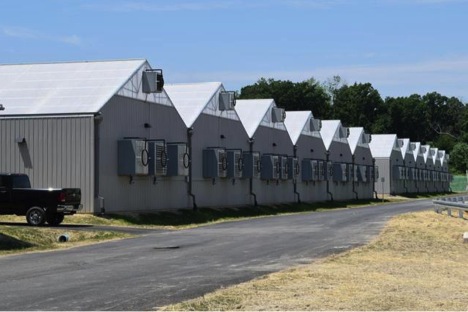 *PharmaCann New York, from PharmaCannis.
The deal was structured as a "lease back." That means IIPR immediately leased the facility back to PharmaCann.
The lease was signed for an initial term of 15 years with two five-year lease extension options.
Rent starts at $320,000 per month and is then subject to annual increases of 4% or 75% of any advance in the consumer price index (CPI).
This acquisition looks like a big win for both parties.
Capitalization rate is the most common way to evaluate the profitability of commercial real estate. In 2016 the average capitalization rate from the National Association of Realtors fell below 8% in the second half of 2016.
IIPR is achieving a capitalization rate of 17.2% on the deal – more than twice the national average.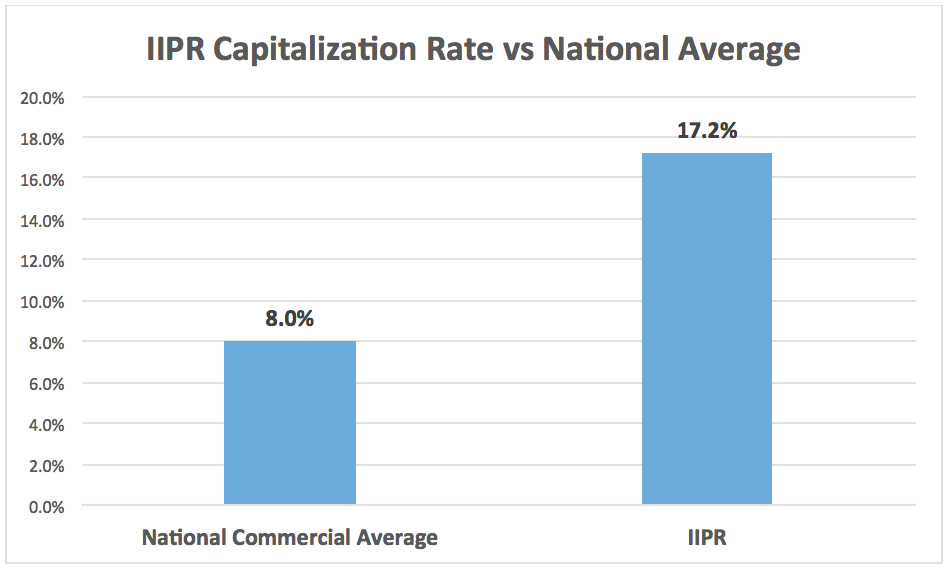 For PharmaCann, the deal frees up millions in cash required to own and operate a cultivation facility that it can now use to invest in growth.
Leasing a cultivation facility also lowers PharmaCann's legal liability – after all, cannabis in any form is still illegal on the federal level in the U.S.
Can IIPR Repeat this Impressive Performance?
With one promising deal in the bag, the question now becomes, can IIPR repeat the magic?
We won't have to wait long to find out.
IIPR currently has five additional facilities under non-binding letters of intent and continues to negotiate potential deals.
IIPR is one of the Very Few Cannabis Stocks that Pays a Dividend
REITs are required to pay 90% of their operating income to shareholders as dividends. This corporate structure makes IIPR one of the few cannabis stocks that pays a dividend.
IIPR has yet to report earnings. When that happens it will be easier to calculate this company's dividend yield.
On the chart, IIPR has been volatile since hitting the big board. Shares first traded just below $20 before plunging to an all-time low of $14.50.
Today, IIPR is looking strong. Shares are up 15% in the last month and trading just below the all-time high near $20.
Risks To Consider
IIPR needs to quickly deploy the rest of its cash into new deals. It needs to prove that it can secure high capitalization rates like it did with its PharmaCann deal.
Action To Take
This is another high-risk, high-reward opportunity. This will be a common theme in the young cannabis industry. Shares have been volatile but have strengthened considerably in the last month. Buy shares below the all-time high and watch for updates on new deals, earnings, and dividends.
Disclosure: At the time of original publishing, Michael Vodicka did not own shares of IIPR.