Analysis originally distributed on November 1, 2016
Cannabis stocks are red hot.
The MJIC North American Marijuana Stock Index is up more than 130% in the last six weeks. Take a look below.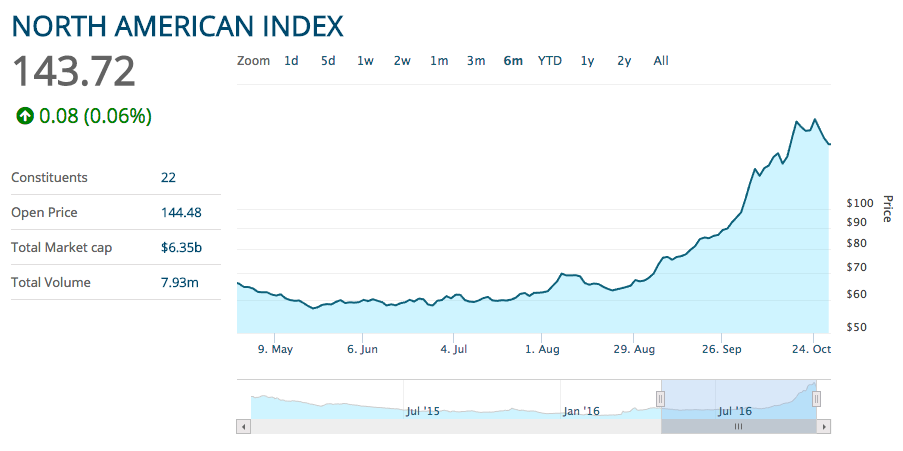 In the meantime, the S&P 500 is up 5% on the year.
I'm not trying to dis the S&P 500. These are the best companies in the world and that's actually a respectable performance.
But for investors looking for growth, the question has been answered. Yes. Cannabis stocks are the place to be in 2016.
The cannabis sector is being fueled by an important regulatory event.
On November 8th, 9 U.S. states will vote on legalizing medical and recreational cannabis programs.
A handful of yes votes would be a powerful catalyst for the young cannabis industry.
Investors are clearly anticipating good news – bidding the sector up to a 52-week high.
Today, I am going to reveal one of the best-performing stocks from the sector and a core holding for a diversified cannabis stock portfolio.
Canopy Growth Corporation (TSX: CGC.TO)
The largest med marijuana co. in Canada by market cap and production.

Services more than 25,000 patients.

Owns more than 500,000 square feet of production capacity.

Low-cost producer set to benefit from industry growth.

Quarterly sales have increased more than 1,000% in the last two years.

I'm expecting revenue to hit a new all-time high in the fourth quarter of 2016.
Canopy is the largest medical marijuana company in Canada and a well-known name to cannabis investors.
As an early industry leader, Canopy is a core holding for a diversified cannabis portfolio.
However, Canopy is about to become the first Canadian cannabis company to be upgraded to the regular Toronto Stock Exchange.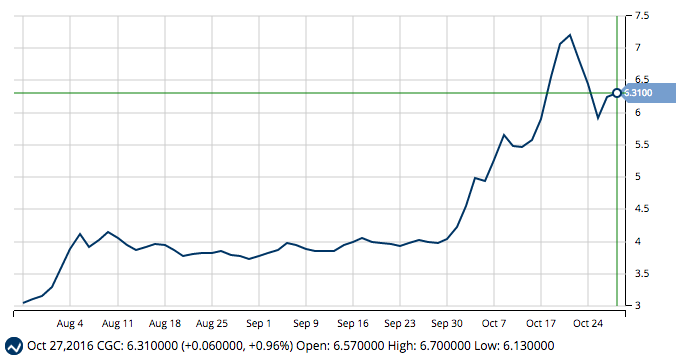 On July 25, Canopy became the first ever medical marijuana company to up list its shares from the Toronto Venture Exchange for smaller companies onto the full Toronto Stock Exchange.
That accomplishment is just one reason Canopy has been on fire in 2016. Shares are up 113% on the year.
Looking forward, I am expecting more of the same.
Canopy Harvested 1 Million Grams of Marijuana in the Last 12 Months
Canopy actually consists of two companies – Tweed Marijuana and Bedrocam.
Tweed operates out of the old Hershey Chocolate factory at 1 Hershey Drive in Smith Falls Ontario. Its campus covers 40 acres and more than 500,000 square feet of potential grow space.
Bedrocan has been producing and selling medical marijuana for more than 20 years. The company began specializing in the indoor cultivation of medical marijuana in 1984 in the Netherlands.
Tweed and Bedrocan have a similar business model. They cultivate marijuana, harvest it into either dried bud, edibles or oils. Then they sell their products online and through dispensaries to medical marijuana patients.
Between the two portfolio companies, Canopy:
Operates more than 550,000 square feet of grow space.
Grows more than 1 million grams of marijuana per year.
Services more than 25,000 patients.
Canopy's First Quarter Sales Grew 300% From Last Year
Its number of registered patients increased to 16,500 from 3,600.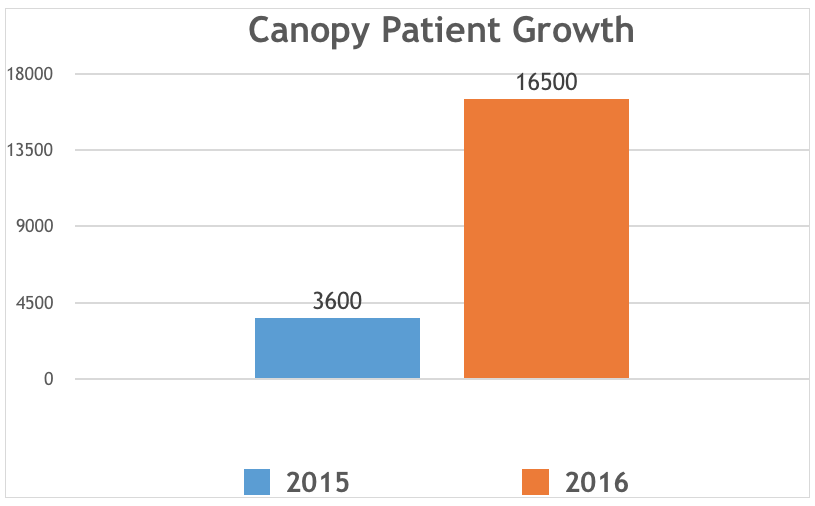 Canopy started licensed sales of its cannabis oils in June, one of the fastest growing segments of the cannabis industry.
Canopy announced international expansions into Brazil, Australia and Germany.
And finally, Canopy revealed a new celebrity partnership, inking a deal with Snoop Dogg to release a new cannabis product called "Leafs by Snoop."
Canadian Cannabis Stocks Have Less Legal Risk than U.S. Counterparts
Canopy has lower legal risk than its U.S. counterparts. Cannabis use in any form remains illegal in the United States. This poses a legal risk to any company operating in the cannabis industry in the U.S.
In Canada however, the laws have been changed and are more lax. Medical cannabis use is legal on the federal level in Canada.
That is a key distinction between U.S. and Canadian cannabis stocks with the advantage going to Canada.
Potential Threats
The MMPR is the Canadian government agency responsible for issuing permits that allow Canadian businesses to harvest commercial marijuana. Although I don't expect this to happen, issuing too many licenses could saturate the market and put downward pressure on prices and margins.
Action To Take
Canopy has been on a roll in 2016. Shares are up 113% on the year and trading at an all-time high. As an early industry leader in a high-growth industry, I see plenty of growth ahead for Canopy. Canopy is a core holding in a diversified cannabis stock portfolio. Buy shares anywhere below the all-time high of $7.35 before the November 8th U.S. ballot and hold for the long run.
Disclosure: Michael Vodicka owns shares of Canopy Growth Corp (CGC)